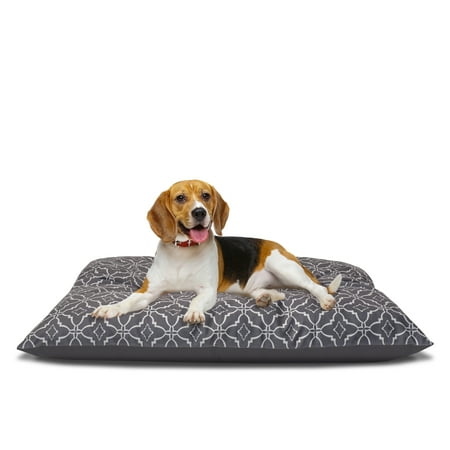 Give your pet a warm and peaceful place to relax with the Vibrant Life Pillow Pet Bed. This pet bed measures 27 inches wide by 36 inches long making it perfect for bigger dogs. The tufted pillow design keeps fiber in place while providing a soft and cozy sleep area for your furry friend. Featuring modern colors and designs, this pet bed is sure to add a pop of color to your home while giving your pet a comfortable space of their own. Available in multiple colors, so you can pick the bed that best fits your pet's needs. Bring home the Vibrant Life Pillow Pet Bed for your special pup today.Vibrant Life shares your passion for animals. You can count on Vibrant Life for a full line of expertly crafted, quality products to keep your pet healthy and happy. Which makes you happy, too. Enjoy the Vibrant Life.
Soft and cozy sleep area
Perfect for medium- and large-sized dogs
Measures 27" x 36"
Customer Reviews
Wonderful
My 2 small dogs love their bed .we just moved and it has helped them feel at home on their new bed next to us when we are sitting on the couchDonna
Fantastic bed!!
My picky dog loves this bed!!! I've bought my dog several fancy beds over the years and he never lays on them and ends up tearing them up. I bought this just because of the price and as soon as I got it out the box he laid on it. It's now 12 am and he has been laying on this bed all day(something he's never done) It's fluffy and faux suede makes it so comfortable! Has a zipper too if you want to add more stuffing or even take the stuffing out for washing. For 9.88 this bed was a steal My dog is a medium size and I got the large. 10/10 will definitely buy again. Love it!Savannah
Our Azure puppy couldn't be more happy than this!
After purchasing a pet bed from the pet store for $24, we purchased this one for $10. It's bigger, fluffier, and she loves it! One of the best purchases we've made.M8niac
You may also be interested in